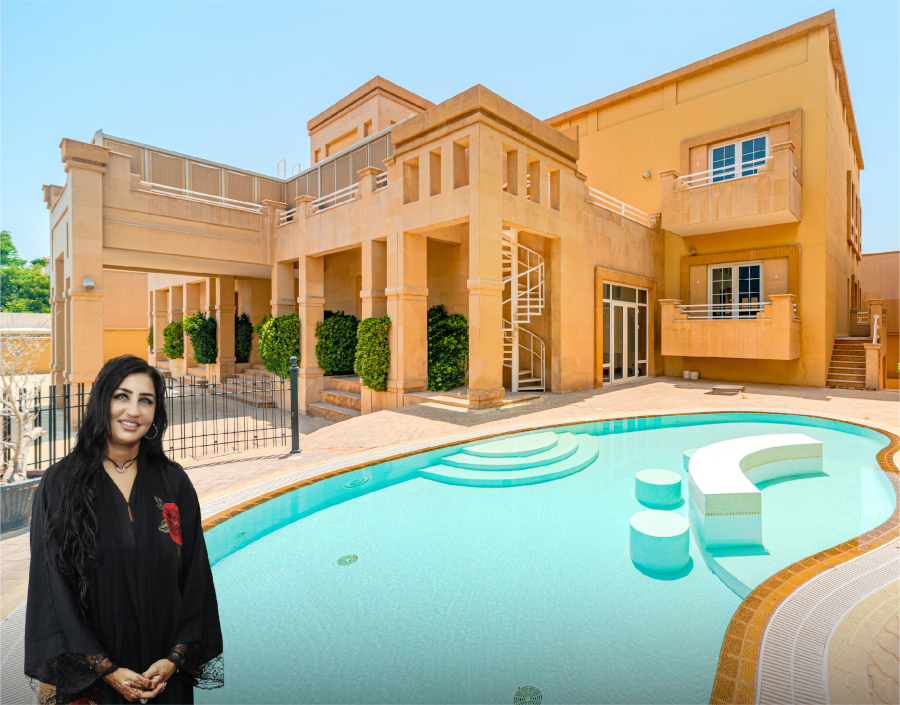 The villa is an architectural masterpiece with total build up area of 24,000 square feet
Dubai: It took six months of dedication, commitment, and hard work before Shifaria Khan from FIDU Properties closed an eight-bedroom villa rental deal in Umm Suqeim 3. The extreme challenge of numerous viewings, negotiations, objections, and approvals from government entities was all worth it and rewarding as she has just clinched a Dh1.8 Million rental deal, one of her highest rentals in her area of specialty, Jumeirah / Umm Suqeim.
The rented private villa in Umm Suqeim is truly an architectural masterpiece. It has a total build up area of 24,000 square feet with a plot area of 15,000 square feet, with 8 large bedrooms that are all en-suite, 10 bathrooms, private swimming pool, glass elevator, 2 modern kitchens, bar feature and ample car parking on basement. It oozes with luxury as the fine intricate details and tastefully styled décor is beautifully presented with its finest quality finishing – making it a uniquely majestic and one-of-a-kind timeless piece of luxury in the heart of Umm Suqeim.
As one of the city's older neighborhoods, most properties in Umm Suqeim are non-freehold, but it still manages to attract a diverse mix of renters, mainly families, from all around the world. Mainly known for its detached and semi-detached 3 to 8-bedroom villas, these properties are a true representation of Dubai's evolving architecture. Nonetheless, it was still a destiny for Shifaria to make two of her great clients begin their dream home journey in one of the most prestigious locations in Dubai that she's so passionate about.
Shifaria Khan says "I call Jumeirah and Umm Suqeim the Beverly Hills of UAE! My will didn't give up on this deal and it was extremely challenging but rewarding to be engaged in one of my rentals in Jumeirah and Umm Suqeim that I am really proud of. I have always worked passionately in this area and I feel Jumeirah is running through my veins now, so much that one of my landlords gave me the name of 'Jumeirah Queen', and now I am recognized and addressed with this title," she added.
Shifaria also thanked FIDU Properties for this very rewarding milestone of her career. "Joining FIDU Properties gave me the opportunity to fuel my enthusiasm and take my skills and expertise in Jumeirah area to another level, and I owe my success to them and the grace of God."
And as an advice for aspiring real estate brokers who also wanted to become successful, she said "You have to be consistent and have to keep looking after your people. I really believe as an agent, your focus should always be your client's needs and to listen to them tentatively. They will become your long-term client if you win their trust and that is so paramount to me. Your values should include passion, consistency, loyalty, persistence and honesty - and that's where I live by."
Publish Date: 17-02-2021
Source: https://gulfnews.com/business/company-releases/fidu-properties-closes-an-eight-bedroom-villa-rental-deal-in-umm-suqeim-3-1.1613560045341