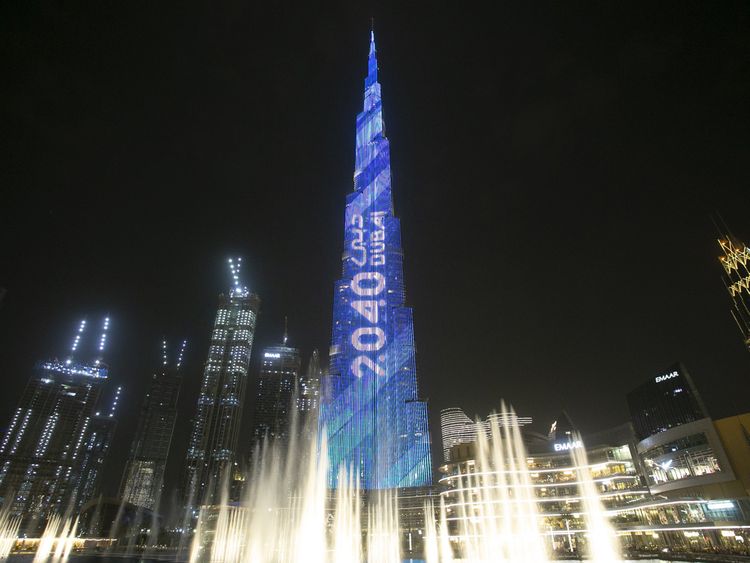 On Saturday, Sheikh Mohammed Bin Rashid announce the Dubai 2040 Urban Master Plan
Dubai: Following the announcement of the Dubai 2040 Urban Master Plan, Burj Khalifa lit up in celebration of the vision for Dubai. His Highness Sheikh Mohammed bin Rashid Al Maktoum announced the plan on Saturday, and said: "We want to make Dubai the world's best place to live in."
The plan focuses on reinforcing Dubai's competitiveness as a global destination by providing a wide diversity of lifestyle and investment opportunities for citizens, residents and visitors over the next 20 years. Designed to realise Sheikh Mohammed's vision to make Dubai the city with the world's best quality of life, the plan aims to provide the highest standards of urban infrastructure and facilities.
Sheikh Mohammed said the visionary development journey started by the late Sheikh Rashid bin Saeed Al Maktoum in the sixties continues to guide Dubai's evolution into a city that promotes the greatest human values and possibilities and an environment where people from around the world can thrive.
The Plan envisages upgrading Dubai's urban areas, with development mainly focused on five key centres. Some of the key priorities include improving the efficiency of resource utilisation, developing vibrant, healthy and inclusive communities, and doubling green and leisure areas as well as public parks to provide a healthy environment for residents and visitors.
The Plan also aims to have nature reserves covering more than 60 per cent of Dubai by 2040.
Publish Date: 13-march-2021
Source: https://gulfnews.com/uae/dubai-2040-master-plan-burj-khalifa-lights-up-1.1615655584676