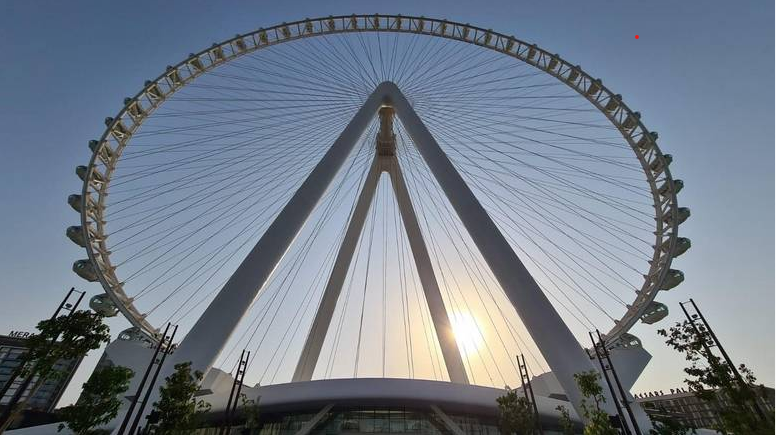 Ain Dubai is the latest landmark to be hemmed into the growing skyline of Dubai.
Ain Dubai, the world's largest and tallest observation wheel, is finally set to open to the public on October 21 this year.
Standing at over 250 metres high, Ain Dubai is the latest landmark to be hemmed into the growing skyline of Dubai and could soon feature among the top attractions in the city.
There are 48 pods on the wheel, with each pod allowing 10 people at a time. One rotation takes about 38 minutes, giving visitors spectacular views of Dubai's landscape on one side and sea on the other.
Tickets are now available on the Ain Dubai website. Those for adults are priced at Dh130, and Dh100 for children aged between 3 and 12 years.
"It comes as no surprise that Dubai has been a leader in the tourism sector for many years now...pioneering projects, taking on those that are seemingly impossible, and finding a way to make them possible. Ain Dubai sets the bar higher again," said Mohamed Sharaf, CEO of Dubai Holding Entertainment.
"We're at a point where we're trying to reinvigorate tourism and travel back in Dubai and we can't think of a better time to open this unique and celebratory asset than during the UAE's Year of the 50th," he said.
Located on Bluewaters Island, Ain Dubai is a must-visit attraction not only because of its height, but also the experience it offers. In fact, it will allow 19 different experiences.
"Ain Dubai offers unique experiences catering to all audiences, including luxurious special event cabins; nightlife and party occasions; unique dining and culinary options; family-friendly cabins and customisable romantic experiences for special moments. We are the ultimate celebration destination, so it was only fitting that we celebrate the opening in style," said Ronald Drake, general manager of Ain Dubai.
These specials are split into three main categories: Observation Cabins, Social Cabins and Private Cabins. Experiences start with one rotation of approximately 38 minutes, up to two rotations of approximately 76 minutes.
The Observation Cabins provide the perfect platform for those never-seen-before Instagrammable 360-degree views of Dubai.
Visitors can also reach new heights with Ain Dubai's Private Cabin that provides full exclusivity. Celebration packages will also be available for birthdays, engagements, weddings, business functions and more. The private cabins can be customised to cater for all sorts of events, from intimate celebrations to cultural festivities to treat VIP guests.
Publish Date: 25-08-2021
Source: https://www.khaleejtimes.com/news/ain-dubai-to-open-on-october-21-tickets-start-dh130-onwards