Global Village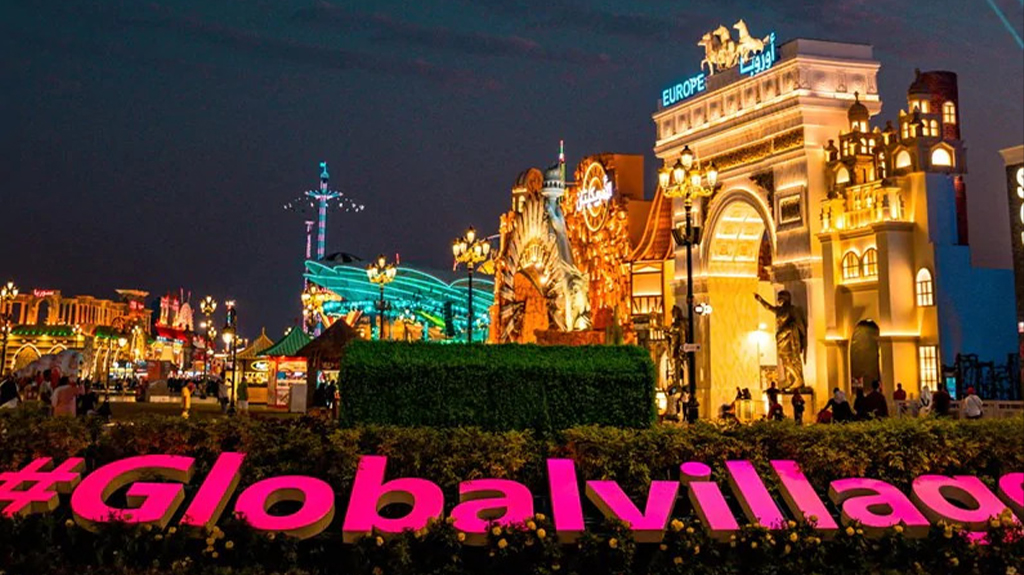 Get ready for the multicultural amusement park's 26th edition. Global Village reopens its gates for its 26th season this year. Part theme park, part market, Global Village features 78 cultures in 26 pavilions with 3,500 displays from countries near and far, where visitors can pick up traditional handicrafts and snacks from over 200 eateries. One of the new additions this time is a beautiful fountain feature, with a seating area and plenty of photo opportunities.
This festival park brings cultures together as visitors discover different parts of the world in just a few hours. The pavilions are designed in the image of iconic structures or local architecture, inviting all to meander from London's Big Ben to the Leaning Tower of Pisa in Italy, take selfies against the romantic backdrop of the Taj Mahal or travel back in time to ancient Egypt. Other countries in the showcase include Russia, Cambodia, Yemen, and Vietnam. Children and adults alike will delight in the bright lights and lively atmosphere created by parades and all kinds of shows, from fire-breathing street performances to star-studded concerts, and even a thrilling stunt show.
Dubai Shopping Festival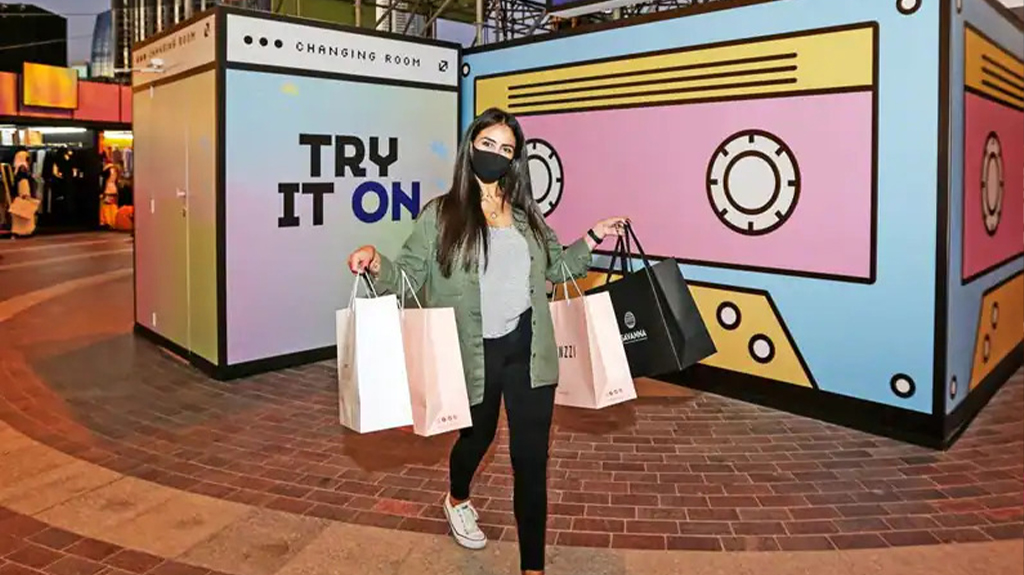 Unbeatable deals, family fun, endless surprises – the annual Dubai Shopping Festival (DSF) is the best time to be in the city.
Held from from 15 December to 30 January, this is the festival we've all been waiting for. Malls and shopping destinations come alive with amazing discounts on just about everything, while daily entertainment, shows and extraordinary raffles keep you surprised every single day.
DSF is about so much more than just retail. Catch concerts by global and regional superstars – 2020 saw the likes of Anne-Marie and Clean Bandit entertain crowds across the city. See impressive fashion shows and explore pop-ups and outdoor markets.
And of course, colourful fireworks displays and family experiences will make this a fun-filled time for the whole family. Mark your calendars for the best place to be this winter.
Expo 2020 Dubai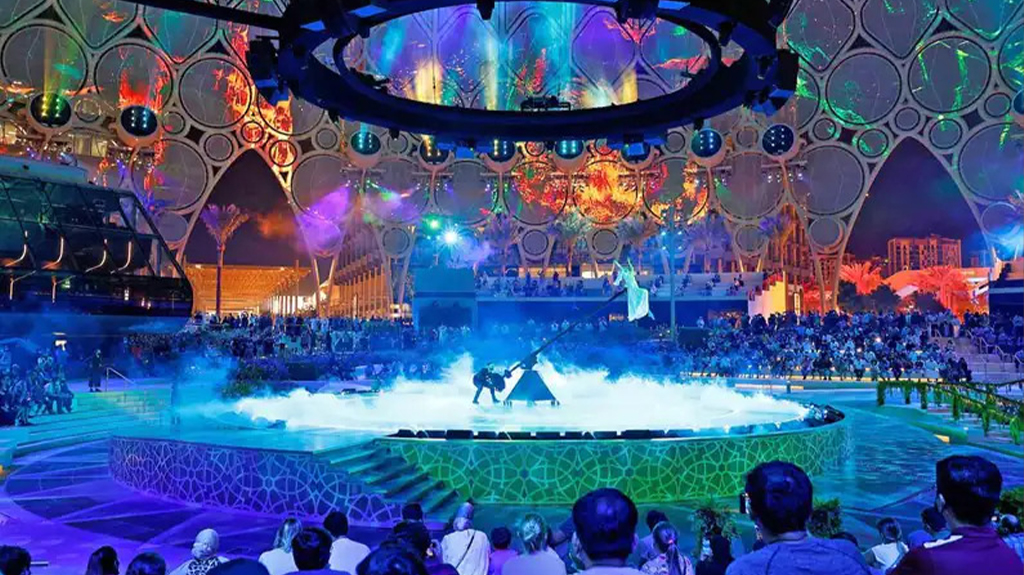 From 1 October 2021 to 31 March 2022, Expo 2020 Dubai will welcome visitors from every corner of the globe, as it brings together the planet in one place to reimagine tomorrow.
Expo 2020 will be the biggest cultural gathering in the world, presenting a visually striking and emotionally inspiring 182 days, as more than 200 participants and millions of visitors create the largest and most diverse World Expo ever. For six months, Expo 2020 will be a must-visit family destination, with thousands of events, amazing exploratory experiences, and free entry for children up to age of 18.
Check out the full calendar of events on expo2020.com/en/calendar
Opening hours
Sat-Wed: 10am - midnight
Thu-Fri: 10am - 2am
DSF Fireworks Night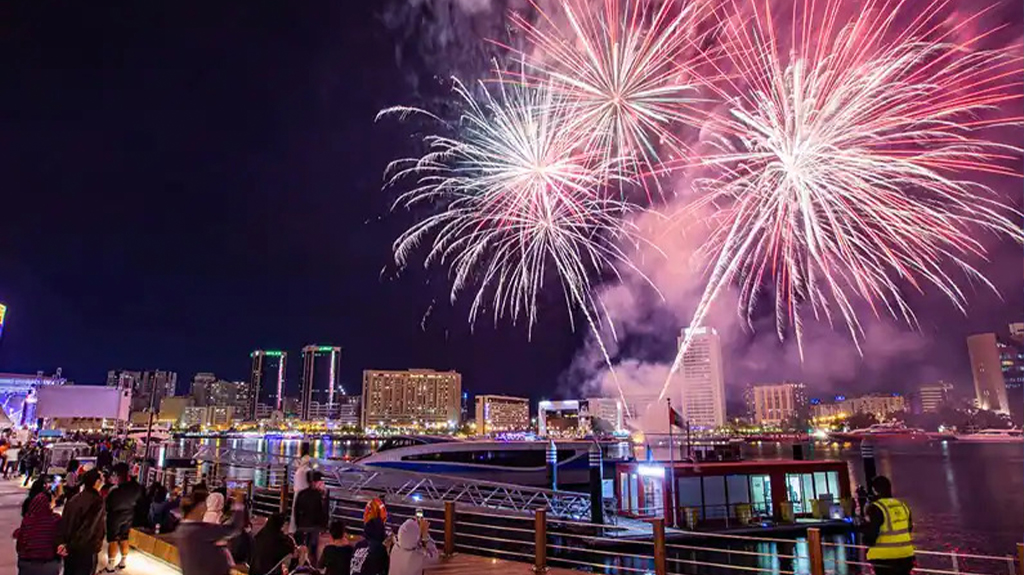 Witness a dazzling display of fireworks by Al Zarooni Group every night throughout Dubai Shopping Festival (DSF) from 16 December to 30 January. Get ready for spectacular pyrotechnics lighting up the entire Dubai Creek and more lifestyle destinations with DSF opening celebrations starting at 8.30pm across five locations.
More shows will follow each week at Dubai Festival City Mall, La Mer, Al Seef, The Pointe and The Beach, opposite JBR and Bluewaters. Meander through the outdoor districts revelling in the city's splendid winter weather and grab a table at one of the waterfront restaurants in time for the shows – you have a plethora of remarkable vantage points to choose from.
Schedule:
16 December
Dubai Festival City Mall, Al Seef, Dubai Creek Golf and Yacht Club, Dubai Frame, La Mer - 8:30pm
17-22 December
Dubai Festival City Mall - 8:30pm
23-30 December
La Mer - 8:30pm
31 December
Al Seef, La Mer, The Beach, opposite JBR and Bluewaters - 11:59pm
1-12 January
Al Seef - 8:30pm
13-22 January
The Beach, opposite JBR and Bluewaters - 9:30pm (7:00pm and 9:30pm on weekends)
23-30 January
The Pointe - 9:00pm
Dubai Lights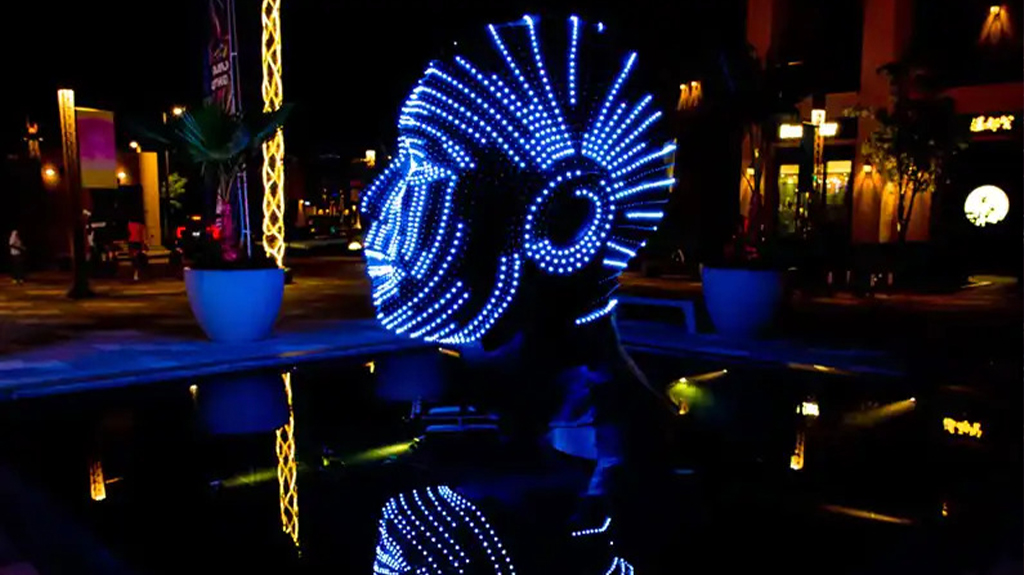 For a truly memorable experience look no further than Dubai Lights with 6 interactive installations by international artists on show at citywide locations. A truly landmark series of exhibits, these artworks that pulse with light and colour will be seen for the first time ever in Dubai from 15 December to 30 January.
At DIFC, watch out for the City Gazing Dubai sculpture, by the artists Justus Bruns and Mingus Vogel, with a unique composition of music setting an atmospheric scene.
Marvel at Illusion Hole—installed directly on the water and created by UxU Studio—and Talking Heads, by the artist Viktor Vicsek, spotlighting four thousand LED lamps to show different facial expressions, both located at The Pointe.
Performing Arts of Dubai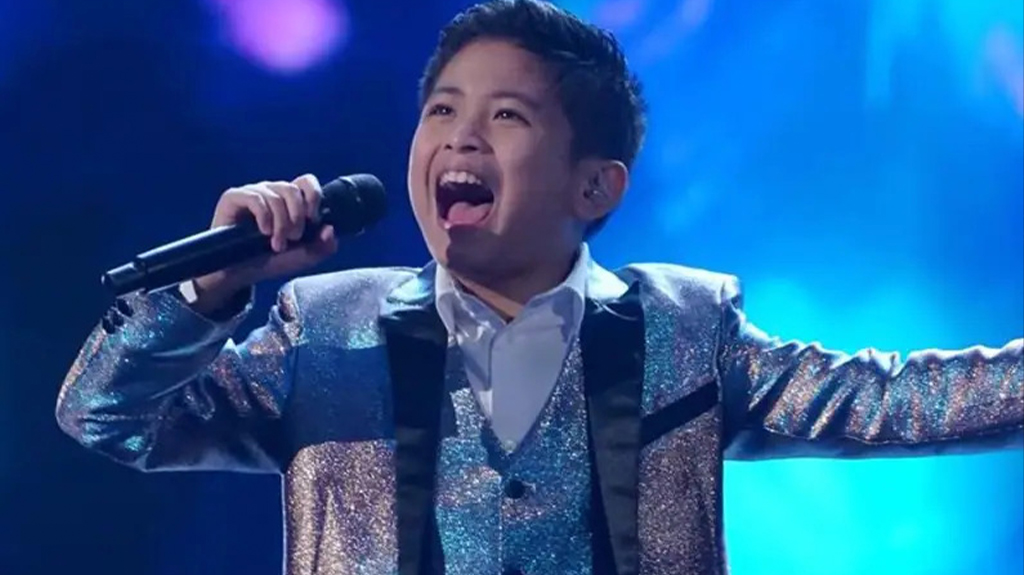 From dancers and musicians to water shows and YouTube sensations, Performing Arts of Dubai will deliver spectacles to stop you in your tracks, wherever you go this Dubai Shopping Festival (DSF). A packed calendar of family-friendly entertainment, every weekend from 16 December to 29 January, is set to thrill, excite and inspire visitors citywide.
This year, DSF is bringing world-class performers to Dubai including past contestants from international shows such as America's Got Talent and Britain's Got Talent.
From Arabs Got Talent's beatboxing and musical sensations Medhat and Rock'n'Roll Oud and juggling stars of America's Got Talent, Jeff the Juggler and Viktor Kee to the tunes of Japanese DJ Akira and award-winning singer Danny Aridi, pun-tastic jokes of comedian Arzoo and bucket beats of Matthew Pretty a.k.a The Bucket Boy, the entertainment line-up at DSF 2021 is unmissable.
Catch a variety of fresh acts with a mix of music, theatre, comedy, and unique talents marching around every weekend in shopping and leisure destinations throughout Dubai Shopping Festival.
Dubai Shopping Festival Drone Light Show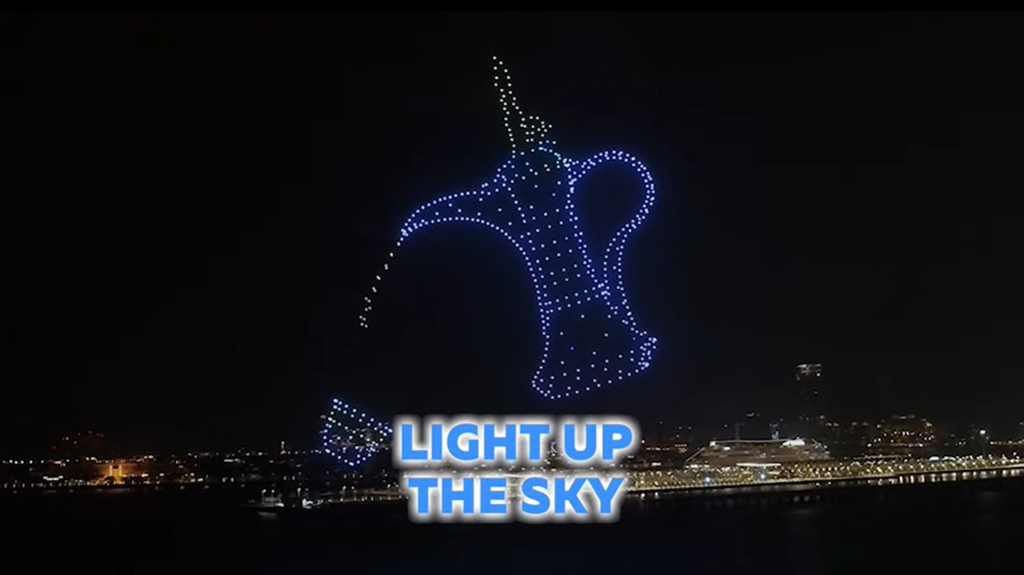 Back by popular demand, the second edition of the Dubai Shopping Festival Drone Light Show returns to Bluewaters and The Beach opposite JBR. An unmissable highlight of the season, catch the live shows and be mesmerised by an array of bright colours and sights against an impressive coastline backdrop.
Enjoy 45 days of a high-tech production celebrating the Dubai Shopping Festival, with three themed shows, two of which will be performed each day. The much-loved 'Ya Salam Ya Dubai' song by Rashed Al Majed and RedOne features in a show representing a day in the life of the Emiratis from the past to the present.
The Hub Food Festival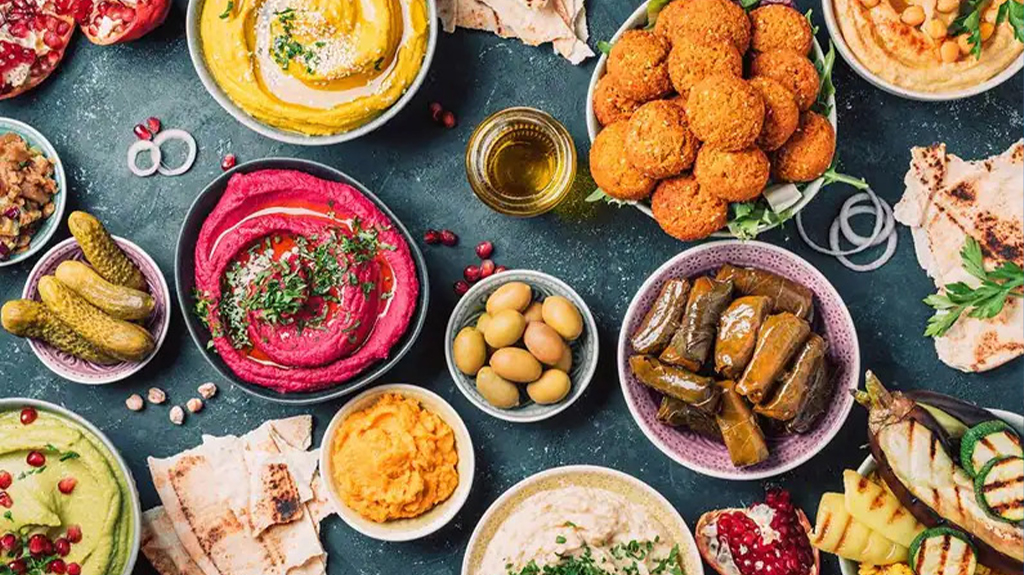 Foodies, families and fun-seekers – Majlis Al Khawaneej is the place to be every day from 8-23 January.
The parking lot is transforming into a one-stop—The Hub Food Festival—for all ages to grab a delicious bite from local eateries and spend an electrifying day outdoors. From picking out fresh rolls to loading up on sweet treats, mix and match a delicious multi-course picnic with your family.
Expo Beats January: City Beats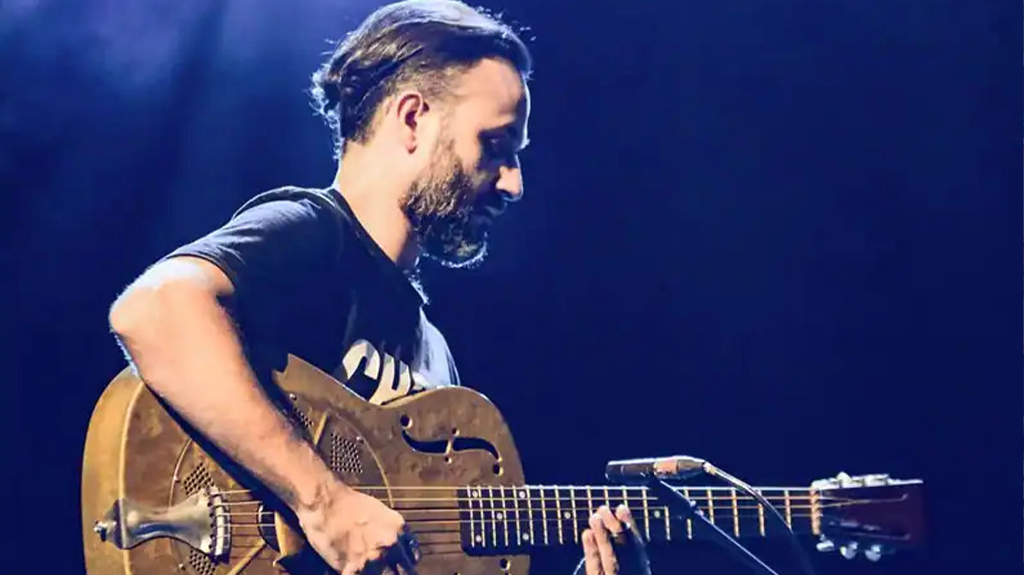 Get your dancing shoes ready as top artists from all over the world including countries like India, South Africa, Lebanon, Kuwait and UAE set the stage alight with power-packed performances. Head to the Jubilee Stage at Expo 2020 to experience January's musical theme of City Beats.
Expect a high calibre of participants as stars that have already graced this stage have included Somali rapper Freek, MBC's Arabs Got Talent 2014 winner Alaa Krimed, New York-based Red Baraat and Moh Flow from Saudi Arabia. This is one gala celebration you don't want to miss.